1 Stop Autocentre - MOT Testing
Huddersfield's Favourite MOT Test Centre
The importance of an MOT test
If your vehicle is over three years old, it is a legal requirement for it to have a valid MOT certificate. This test must be done annually to ensure your vehicle is always roadworthy and ensures you and other road users remain safe. Our accredited MOT testers will ensure your vehicle meets the DVSA's strict guidelines and then inform you of the outcome of your test. If, for whatever reason, your vehicle fails, we will provide an affordable repair plan designed to get you up and running again.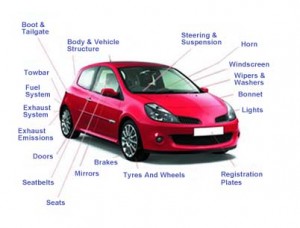 Quality MOTs for all makes and models
Here at 1 Stop Autocentre, we pride ourselves on the value for money we can offer customers. Not only do we offer high-quality MOT testing in the heart of Huddersfield, we offer it at prices that won't break the bank, no matter what vehicle you drive – car, van, minibus or any other class four vehicle, we can test them all. So, if you need an MOT for your vehicle, enquire with 1 Stop Autocentre today.
Free MOT reminder
We understand that our customers lead busy lives and so remembering when their MOT test is due isn't a high priority. This is why we are able to offer a free MOT email reminder service, so you'll never be caught out and miss the due date. As part of our commitment to you, we also offer a local collection and delivery service and a range of courtesy cars to ensure your MOT experience is as stress-free as possible.
Book your MOT test today
If your MOT test is due, book an appointment with 1 Stop Autocentre today. We love what we do and you'll see our passion for safety showing in our work. Either give us a call between 8am and 6pm Monday to Friday or 9am to 5pm on Saturdays or use our online booking tool, available 24/7. It's fast and free and all you need to enter is your vehicle registration number and when you'd like your MOT test to be – we'll only ask for payment after the work has been completed.
How to Book Online