1 Stop Autocentre - Tyre replacements, repairs and fitting
We'll get you treading safely again
1 Stop Autocentre - The only place for tyres in Huddersfield
We offer a range of tyre services at our garage, including a puncture repair service and tyre replacements, with a wide range of new and part-worn tyres to suit every budget. If you suspect there are any issues with your tyres, we can inspect them and give an honest and open opinion about the best course of action to make them roadworthy again. We will always discuss the full cost with you before we start any work and will always seek your full authorisation before any repairs are carried out.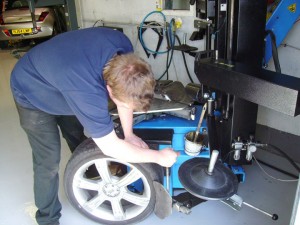 Why it's important to regularly check your tyres
Legally, your tyres must have a tread deeper than 1.6mm or you'll face points on your licence and a hefty fine. Worn tyres are incredibly dangerous and can increase the risk of an accident, so we strongly recommend checking them regularly. If your tyres don't have the right tread depth, you won't be able to grip the road correctly which can affect your braking distance and steering.
Reasons for worn tread
The most common reasons for worn tread is general wear and tear. Tyres degrade naturally but if you think they're wearing faster than usual, there may be a separate issue with your vehicle. It's also important to keep your tyres pressurised correctly. Over or under-inflated tyres can have dangerous effects on the drive of your vehicle. At 1 Stop Autocentre, we can check your tyres and diagnose the problem, whether it be with your tracking, wheel alignment, brakes or tyre pressure.
Choose 1 Stop Autocentre for your tyre services today
If you suspect have a problem with your tyres, then it's time to book an appointment with 1 Stop Autocentre. Either give us a call or pop into our garage between 8am and 6pm Monday to Friday or 9am to 5pm on Saturdays and we'll do our best to fit you in. Alternatively, you can use our online booking tool, available 24/7. It's quick and easy to use and you'll never pay a penny until after the work's been done. Just enter your vehicle registration to confirm your appointment.
How to Book Online